Alokananda was awarded a Diploma in Rabindra Sangeet by Dakshinee, Calcutta, in 1968; and a Diploma in Pianoforte by Trinity College, London, in 1967.
Alokananda has been a one time winning candidate for the
Miss India title.
Through all her successes over the years, Alokananda Roy has remained an assiduous learner - an artiste who continuously hones and enriches her skills and understanding of her art form.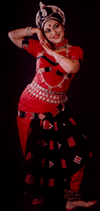 Alokananda Roy has performed over a thousand times in major shows. She has performed all over India She has toured extensively and repeatedly allover the UK, Europe, USA, Japan, Singapore and other countries. She has been a member of the cultural delegation to the United Kingdom for the Sanskriti Festival and the 125th Birth Anniversary of Rabindranath Tagore. She has performed at the Edinburgh Festival in 1985, the Asian Festival in Japan in 1986, the India Festival, again in Japan in 1988, the Sanskritic Festival at the Queen Elizabeth Hall, London, in 1985 and tl1e Banga Sanskriti Festival in USA in 1987. She has conducted workshops and lecture demonstrations in different institutions in UK in 1991, 1992, 1996 and 1997. Television has added a further dimension to her audience. She has appeared in countless programs on prime-time National Television.