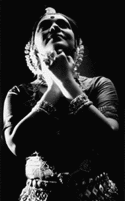 Alokananda Roy's vocation as a dancer is sustained by her deep religious conviction, her belief in mystic fulfillment finds expression in her devotion to Sri Aurobindo and The Mother. Her numerous programs dedicated to them, such as "Bande Mataram", choreographed and conceived by her, have a devotional and inspirational quality.
Her faith in humanity has drawn her to work with under privileged children and to create opportunities for them to express their latent artistic abilities. It is a cause in which she finds greatest fulfillments. She works closely with street children of the Pavement Club of the Calcutta Samaritans and will present them in a dance item at Rashtrapati Bhawan in New Delhi. These children, trained by her, will be performers of honor before the President of India.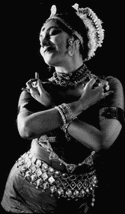 Beginning as a child, her association with the stage now spans four decades. Like the river after which she is named, she flows on, drawing people from all walks to experience and share the spirituality and discipline of Indian Dance.